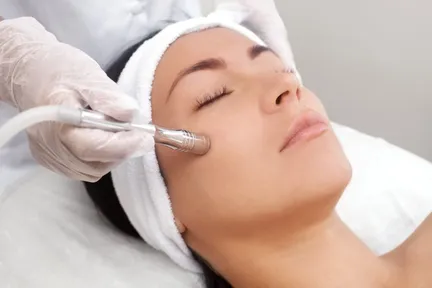 Microdermabrasion
Microdermabrasion is a skin resurfacing technique that is non-invasive, safe, and effective in improving the appearance of aged skin, wrinkles, color, and skin texture. It uses fine crystals or minutes diamond-studded tip to gently exfoliate the skin's surface layer with the tip abrading and the vacuum suction removing the dead skin cells.
It leaves the skin radiant, smooth, and hydrated. This treatment stimulates the elastic tissue beneath the skin's surface, resulting in a healthier and firmer appearance.
The length of the treatment or the number of treatments depends on the patient's skin type, texture, and tone.
Microdermabrasion is beneficial for people with:
Hyperpigmentation
Minor scars
Sun-damaged skin
Uneven skin tone
Enlarged pores
Age spots
Clogged pores
Dermatologists often use microdermabrasion to help unclog pores and clear acne. They are sometimes combined with gentle glycolic peels and medical acne treatment in Richmond Hill, ON, to help speed up acne clearing. Individuals with deeper acne scars may expect a much longer series of treatments.
What does this treatment include? Double cleanse, steam with extractions, massage, hydrojelly mask, and finishing products.

Rates
$120 per session
Package of 4 $430