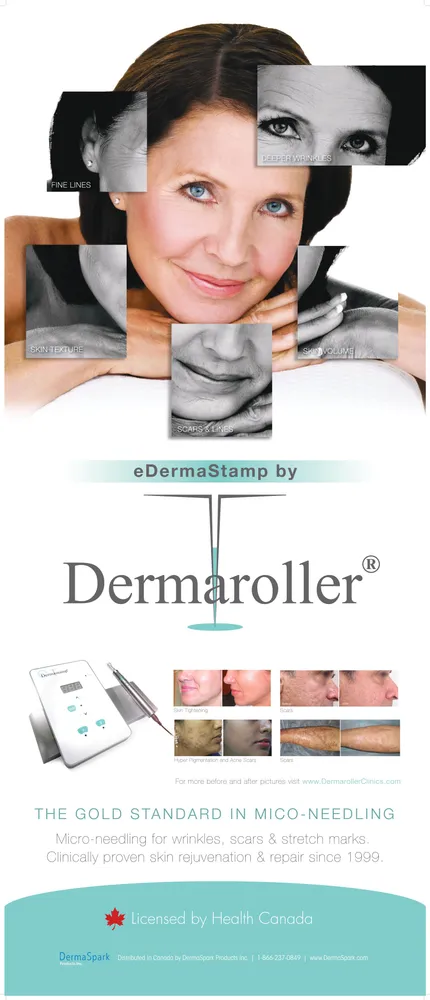 Micro-needling Treatment, also known as Collagen Induction Therapy (CIT), is a "medical cosmetic procedure where very fine needles puncture the skin to various depths to cause a controlled injury and induce the skin to make more collagen, resulting in a clearer complexion."
When done right using high-quality micro-needling devices and products, micro-needling becomes one of the most cost-effective modalities for skin resurfacing, sagging skin, wrinkles, acne scars, pigmentation, stretch marks, fine lines, and other common skin concerns. In simple words, micro-needling works on signs of aging. The benefits of micro-needling are experienced by people with different skin types and skin conditions.
The eDermaStamp ®
eDermaStamp® is an electronic micro-needling device, manufactured by Dermaroller® – the
original company from Germany who invented the concept of aesthetic micro-needling for
medical-aesthetic applications. With eDermaStamp® you get:
Surgical-grade equipment

Surgical-grade sterilized tiny needles
German quality engineering and production
Highest perforation rate (150 sps)
Most advanced safety features, reducing side effects
Highest quality products, specifically designed for micro-needling
Unmatched results
We use AnteAGE MD Micro-needling Solution that contains pro-healing, anti-inflammatory growth factors and cytokines derived from laboratory culture of human bone marrow mesenchymal stem cells, the specialized cells that science has determined function as "command and control" of healing in all injured tissues and micro-injuries. In skin rejuvenation, it increases COLLAGEN PRODUCTION and optimizes the skin's ability to repair and rejuvenate itself, which is the technical way of saying it makes you look amazing.
For more information on AnteAGE Microneedling, visit here

Microneedling includes: cleansing, Anteage enzyme for 10 minutes, numbing the skin, concentrated serum Infusion with Anteage growth factor solutions, Masking, Post-care kit along with many other creams and serums. The treatment takes a maximum of 30 minutes to complete.
Contraindications
Skin infections, cold sores or open wounds, sunburn
Significant coagulation disorder, coagulation treatment/blood thinner
Treatment with high-does of corticosteroids
Warts, moles or skin tags
Acne in active status with papules and pustules
Pregnancy and breastfeeding
Diabetes and lupos
Eczema, impetigo (infection produced by bacteria that produces blisters)
Skin cancer and people who are undergoing chemotherapy or radiotherapy

Rates
$350 per session ( full face & neck)
Package of 3: $890
Microneedling for strech marks is also available. Please call for a consultation.
Micro-needling for stretch marks is also available. Please call for a consultation. We are a board-certified plastic surgeon for Micro-needling in Richmond Hill. We will take care of your micro-needling before and after 1 treatment, making sure no micro-needling scars are visible. Most importantly, we will give the best skin care tips so that your skin heals quickly and comfortably.
For more information, click on the link